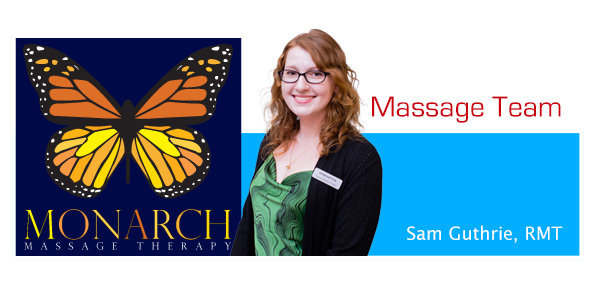 Monarch Massage Therapy
At the St. Margaret's Bay Physiotherapy Clinic we offer collaborative services between our physiotherapists and our Registered Massage Therapist, Samantha Guthrie.
Samantha is a CCMH (Canadian College of Massage and Hydrotherapy) graduate of the 2200hr program. She began her profession at the clinic in 2012 and since then has become an integrative part of the healing process of the many clients who walk through our doors.
Along with her knowledge of General Swedish Massage, Samantha has taken several additional courses to help aid in her clients' recovery. These courses include Myofascial cupping, Temporomandibular (TMJ) mastery, Neurological inhibition of the sacrum and pelvis, Acupressure/ meridian therapy and levels I, II of Usui Reiki.